What is Substance Abuse Treatment?
To understand substance abuse treatment, you should know about substance abuse first.
Substance abuse is the dependency on drugs that is harmful to a person by the amount or by the method of receiving it. When someone takes drugs in an unusual amount or for a purpose for which these shouldn't be used, it is called substance abuse. The person is called to be suffering from substance use disorder.
Now let's come to the point of substance abuse treatment.
The process of treating a person who is suffering from substance use disorder to reduce or remove his/her dependency on that specific drug or all types of drugs is called substance abuse treatment.
The substance or drug can be any kind of drug we know about.
Types of Substance Abuse Treatment Approach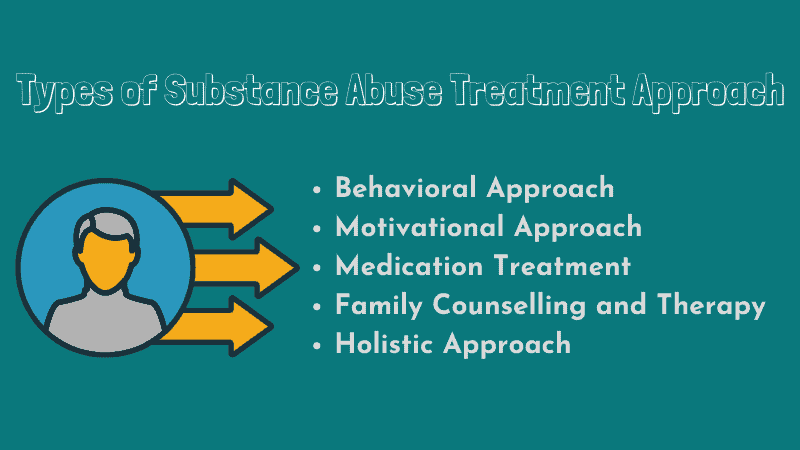 Substance abuse treatment can be done following a few different types of approaches. These approaches are different from each other. In some cases, treatments are done following multiple approaches together. It depends on the therapist.
However, let's talk about the most common approaches of substance abuse treatment that are followed widely.
Behavioral Approach
The behavioral approach of treating substance abuse focuses on changing the behavior related to substance misuse. In this approach, therapists help the patients to learn life skills so that they can cope with the situations that lead to substance abuse.
There are different types of behavioral methods that can be followed to treat this issue. Some of those are proven to be effective in treating substance use disorder while some have shown effectiveness in treating addiction to a specific substance. Some of the behavioral approaches are Cognitive Behavioral Therapy, 12-Step Approach, Contingency Management, Rational Emotive Behavioral Therapy, etc.
The behavioral approach works by helping the patient to consciously evaluate and change their ideas, beliefs, and attitudes towards something.
Motivational Approach
The motivational approach believes that people who are addicted to substances can't come back to sober life because they lack the motivation. They use addiction as a coping mechanism that helps them to deal with different issues in their life. They are partially aware of the negatives of addiction and they want to get rid of it. But lack of motivation doesn't let them leave it.
That's why in this approach, therapists focus on increasing motivation towards sobriety. They help the patients to understand that being addicted to substances doesn't solve the problems. They also add that the patients can avoid the use of substances.
Doing this makes the patients strong and willing to leave addiction for leading a sober life. This is an effective way of treating substance use disorder. But if it is combined with another approach, the outcome becomes much better.
Medication Treatment
Substances manipulate the brains of the addicted people towards the need for that specific substance. As a result, when they take a specific substance, they feel relaxed. On the other hand, if they don't take that substance, their brain asks for it again and again.
Medication treatment uses medicines to reduce the need for substances. Different medicines work in different ways, but the main aim is the same- to minimize the need for the addictive substance. Hormonal imbalances and other issues caused by the lack of the specific substance are also managed by medicines. As a result, patients don't feel the need strongly.
Depending only on medicine is effective. But the effectiveness increases when it is combined with another approach.
Family Counselling and Therapy
Family Counselling and Therapy include family in the treatment of an addicted person. Typically it is used to treat substance use disorder in adolescents, but it is similarly effective in treating adults too.
Family issues can be a reason behind addiction. In such cases, this approach is very effective. It focuses on improving the relationship with the family by engaging family members in the treatment process. This approach teaches the family members the ways to treat the patients and their addiction.
According to this approach, problems are lying between people. So, the therapists focus on improving relationships, understanding, and behaviors among the members of the family.
Family Counselling and Therapy is typically used with another approach to making the recovery process fast, effective and efficient. It is rarely followed as the only approach to treat substance use disorder.
Holistic Approach
Holistic means 'Whole Person'. This approach focuses on improving the overall condition of the patients instead of focusing on just the symptoms of the addiction. This approach includes a lot of components that may seem to be unnecessary, but those are not. When improvement is done for physical, mental, and spiritual health, the impact is more effective.
The holistic approach is used in most treatment centers. Some components of a holistic approach are- meditation, yoga, art therapy, hypnotherapy, massage therapy, acupuncture, physical exercise, etc.
The approaches mentioned are some of the common approaches that therapists and treatment centers use to treat patients with substance use disorder. Instead of following a specific approach, maximum treatment centers use a perfect blend of 2-3 approaches. It depends on the preference of the therapist and the need of the patient.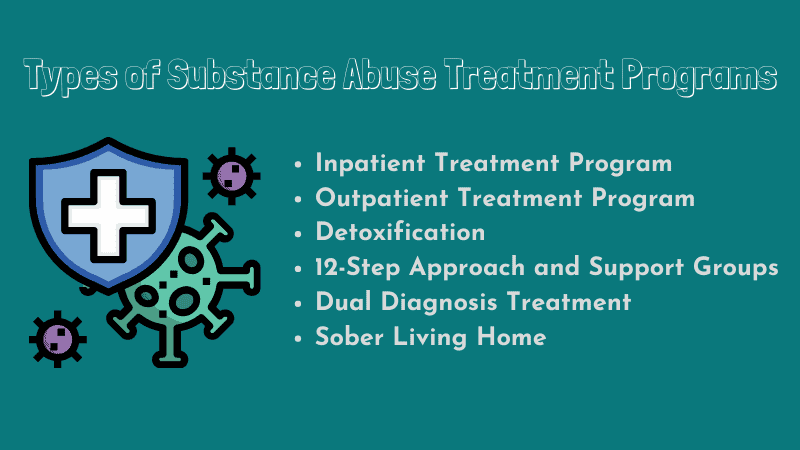 Types of Substance Abuse Treatment Programs
Depending on where and how the treatment process takes place, you'll find a few types of substance abuse treatment programs. Below are the basic types.
Inpatient Treatment Program
An inpatient treatment program is a residential program where the patients stay in a residential center during the treatment period. This helps the therapists to be closer to the patients, understand them and design the treatment according to this.
Also, when patients stay in inpatient treatment facilities, they become less or zero exposure to the addictive substances. This also aids in faster recovery.
Throughout their stay in the rehab centers, they are treated using personal meetings, group meetings, recreational activities, community engagement, and so on. The residential setting is not anything like a hospital. It is more like home.
Inpatient treatment programs are of two types- long-term programs and short-term programs. A long-term program is required when the problem is severe. It lasts for at least 6 months. On the other hand, a short-term program is around 4 to 8 weeks long. The length of the program depends on the situation of the patient.
Outpatient Treatment Program
An outpatient treatment program is a program where the patients stay at home throughout the treatment period. In this program, they join the individual and group sessions in the rehab center following the schedules and continue their regular life staying at home.
It helps the patients to continue socializing along with treatment. However, in this type of program, they are exposed to substances. So, typically, if the addiction is in the primary stage, this program is followed.
The cost of outpatient programs is lower compared to inpatient programs because here the patients don't stay at the treatment centers. However, a slightly modified version of the outpatient treatment program is an intensive outpatient program where the patients go through more frequent sessions, drug testing, and other components.
Outpatient treatment programs are typically 6 months long. But it varies depending on the condition of the patient. In this program, the patients get enough time to spend with family and continue their daily routine. So, the process doesn't seem difficult to them.
Detoxification
Detoxification is the process of removal of drugs and other chemical substances from the body of the patient under professional supervision. This should be monitored by an experienced medical professional because detoxification causes painful symptoms. Also, it can result in life-threatening consequences.
Professional detoxification programs are less painful because professionals use medicines that reduce substance withdrawal symptoms. Also, many people can't take the painful symptoms. So they go back to addiction if not treated under expert medical professionals.
Detoxification can be used solely as a treatment program for substance use disorder or it can be included in another program. Typically, an inpatient treatment program includes detoxification as an important step.
12-Step Approach and Support Groups
The 12-step approach is a program that is directed and conducted by a community of people who were substance users previously. The community helps people who want to get rid of substance abuse. This is a spiritual journey toward sobriety. Alcoholics Anonymous is a 12-step group for helping people with alcohol addiction.
Like Alcohol Anonymous, there are more support groups where former substance users and non-users help people to get rid of the substances. Regular interaction with these support groups also helps people to treat addiction. This is a great way for people who want to self-help.
To treat addiction and substance use with the help of these support groups, the patients should be mentally strong. Joining the meetings and working on self-development is not very easy to do when you don't have pressure from outside. So, the patients should be strongly self-motivated to take help from such groups.
Dual Diagnosis Treatment
Dual diagnosis treatment is the treatment program that is done for a person who is addicted to a substance and suffering from a mental illness. Substance abuse and mental illness are related to each other. Sometimes, substance abuse causes mental illness. On the other hand, sometimes, a mental illness directs a person to start substance abuse.
Dual diagnosis treatment focuses on both issues while treating. That's why it is a comparatively more complex process and needs to be done by a professional medical person. The reason is- if not treated properly, there is the risk of adverse impact on the patient, just like detoxification. Not all rehabs work with this type of treatment.
With this, the patient also should be mentally strong and willing to continue the treatment process no matter how tough it is.
Sober Living Home
Sober living home is not a fully sufficient treatment program for substance abuse. This is a residential facility where people stay before stepping back to normal life after inpatient treatment. But, this is not a mandatory step after inpatient treatment is done. If someone feels the necessity, they can stay here.
But this can be a great option for people who are receiving outpatient treatment or help from support groups. As living at own home enhances the chance of being exposed to drugs or substances, sober homes can be a suitable place to stay until recovery. In fact, in the primary stages of recovery when the addiction is strong, staying at sober living homes can help a lot by making the process faster.
Sober living homes are homely places with comfortable living amenities and scopes for recreation. Here, people can focus on developing and practicing healthy habits that help them to stay away from addictive substances.
Does FMLA Cover Substance Abuse Treatment?
FMLA stands for Family and Medical Leave Act which is a law that allows the employees to have an unpaid and job-protected leave for dealing with family and medical issues. The act has some guidelines depending on which the issue is measured and counted as qualified or not qualified for the leave.
FMLA offers medical leave for people with 'serious health condition' that doesn't allow them to work properly. Substance use disorder is a serious health condition, especially if the patient needs to go through an inpatient treatment program. That's why FMLA covers substance abuse treatment.
Also, FMLA offers leave for taking care of a seriously ill family member. So, you can get the leave under some conditions to help your loved one who is suffering from substance use disorder.
For drug or substance abuse treatment, FMLA provides unpaid leave. So, the employee won't get paid throughout the period. The duration of the leave is 12 weeks.
However, not everyone is eligible for the leave. To be qualified for FMLA leave, the employee must-
Work for the employer for at least 12 months
Spend at least 1,250 hours actively within the last 12 months
Work somewhere which have a minimum of 50 employees within 75 miles
Also, not every employer is eligible for offering FMLA leave. To offer the leave, the employer must be-
A public agency
A private company that has 50 employees or more than that and 20 workweeks or more per year
An elementary or secondary school
Also, FMLA has some other constraints. For example- the employee can take leave for substance abuse treatment, not for using a substance. This means the leave is only for treatment, not for the absence in the workplace caused by substance abuse.
Again, if someone takes leave for substance abuse treatment, the employer can still take action against the employee. The action is not for taking the leave, rather than for abusing a substance. So, if the company policy contains something which asks for taking action against the employees who are addicted to substances, the management can do that. In such a case, FMLA doesn't ensure the security of your job.
In a word, the company can take action against you not for taking FMLA leave but for violating the company rule that asks for avoiding substance abuse. In this case, FMLA can't guarantee that your job is secured.
However, maximum companies don't do this because they don't want to lose as an asset. Management takes decisions depending on the facts and there is a chance that the employee will be able to join the job after coming back from substance abuse treatment.
Does Medicare Pay For Substance Abuse Treatment?
Medicare is a social insurance program by the US government that ensures health-related services for the people of the USA. It is generally for the old people aged 65 or older.
Medicare program comes in four parts. Part A and B cover hospital and medical insurance where part C and D focus on flexibility and drugs.
Medicare Coverage for Substance Abuse Treatment
Each part of Medicare ensures partial or full coverage for substance abuse treatment. But for covering substance abuse treatment, Medicare needs to be sure that it is medically necessary. Also, the treatment should be done by a Medicare-approved medical service provider.
Part A of Medicare provides support if the person needs to be treated under an inpatient treatment program. The treatment should be done in a psychiatric or general hospital.
On the other hand, if the person needs outpatient treatment for substance abuse, part B of Medicare takes care of it. Also, the partial hospitalization program is covered by part B. The components that part B covers are the following-
Part C consists of everything that part A and B provide, maybe with some additions. But the treatment and other issues should be served by in-network providers only.
Part D focuses on covering the drugs that are necessary throughout the treatment. Also, it includes medically necessary medications that the doctors suggest buying and using for opioid addiction.
There are many criteria that should be filled up to get covered by the parts of Medicare.
Out-of-pocket Costs
However, there are some out-of-pocket costs too that should be covered by the person. The list of out-of-pocket costs is given below.
Out-of-pocket costs of part A are-
20% coinsurance for mental health services from a hospital
For 61-90 days, $352 hospitalization coinsurance
For 91+ days, $704 hospitalization coinsurance
Deductible $1408
The list is for each benefit period.
Out-of-pocket costs of part B are-
$144.60 monthly premium
$198 deductible annually
20% coinsurance
Extra coinsurance to the hospital for partial hospitalization programs
Out-of-pocket costs of part C and D varies depending on various factors.
Coverage Exclusions
Medicare coverage for substance abuse treatment covers almost all the components of it or maximum. However, the cost of some services are not provided by Medicare. These are-
Transportation costs needed for going to the service providers
Costs of support groups
Private duty nursing
Does Medicaid Cover Substance Abuse Treatment?
Medicaid is another program run by the US government to help people within a low-income bracket with treatment for different issues. Typically, Medicaid comes with an age restriction, but practically people under some other criteria are out of the age barricade. Let's know who is eligible for Medicaid.
People of 65 years or elder
People who are under 19 years old
Disabled people
Pregnant women
Parent of at least a kid
Caretaker of at least a kid
Medicare Coverage for Substance Abuse Treatment
Mental health and substance abuse are two of the most seriously-taken problems by Medicaid. Though it came with a lot of restrictions from the beginning, after the MHPAEA act in 2008, the restrictions are almost gone. So, now substance abuse treatment is covered by Medicaid without any serious restriction comparing to other medical conditions.
Below are the components of substance abuse treatment that are covered by Medicare.
Screening
Interventions
Family therapy
Regular therapy and medication
Inpatient care
Outpatient care
Detox
Long-term residential treatment
Depending on which state the patient is from, the patient side has to spend for some components or additional costs. It also depends on the income of the individual. So, you'll have to go through some calculations.
To get the benefit of Medicaid, you'll have to receive treatment from rehabs that accept Medicaid. You'll easily find one around you. There are a lot of rehabs that accept patients under Medicaid. You need to find those and pick one that can do the best for you.
How Long Is Substance Abuse Treatment?
There is no specific answer to this question. The duration of a substance abuse treatment program is depended on a lot of things including the patient's condition and speed of recovery.
Typically, you'll find programs of different lengths. Common substance abuse treatment programs durations are 30 days, 60 days, and 90 days. But there are also extended programs that are suggested when the condition of the patient is a bit risky.
Let's look at the typical programs.
30-Day Program
A 30-day program is much more affordable for a lot of people. This is one of the benefits of this program. Also, that's why many insurance companies cover 30-day programs with easy conditions.
But, in most cases, a 30-day program is like a test drive. This short-time program helps the patients to understand the process through which they have to go. Also, it helps the patients to understand the withdrawal symptoms so that they can be prepared for the longer programs.
So, mostly you can call this a warm-up or preparation session before going through the recovery process.
60-Day Program
A 60-day program is comparatively more effective than a 30-day program because it ensures ample time. In such a program, the patients have time for detox which ensures total removal of the substance from the body.
Also, a 60-day program has enough time to help the patients learn the healthy and active lifestyle that should be continued. So, this kind of program is effective if the patient has enough willpower to leave harmful substances.
90-Day Program
A 90-day program is more effective than a 60-day program and way more effective than a 30-day program. The success rate of 90-day programs is higher and you know the reason.
In a 90-day program, patients get enough scope to go through the detox process and enough sessions of individual, group, and family therapy. Also, besides learning skills for a healthy and active lifestyle, they have time to get adjusted to these. Even they learn the skills to resist the temptation in future.
Thus, in a 90-days program, most patients get adjusted to sober life where there is no presence of harmful substances. That's why people who take this program experiences longer effectiveness of the treatment.
Extended Programs
Sometimes, a 90-day program is not enough for patients to recover. Also, sometimes therapists ask the patient to extend the program for adjusting to a healthy lifestyle. The extended program typically contains a period of staying in sober living homes.
Sober living homes help the patients to pass some time in a normal, homely environment before they go back to their regular life. Here the patients can get adjusted to a healthy lifestyle by maintaining the practices and routine. Also, here they can be mentally ready to go back to regular life. So, this can also be called the warm-up period before regular life.
Typically we suggest a longer program because of some reason. It is obvious that longer programs help better.
Substance Abuse Treatment Plan
The treatment plan for substance abuse is mandatory because it talks about the way a patient will be treated. Besides the addiction, it also focuses on the physical, mental, and social health of the patient. Depending on some factors, the plan may change multiple times and become updated.
However, the structure of a substance abuse treatment plan varies depending on who is creating it. But there is a basic structure with some common elements. Here, we're going to talk a bit about these.
Diagnostic Summary
A diagnostic summary is the very first part of a treatment plan that focuses on the overall condition of the patient. At first, a therapist or medical professional discuss with the patient to find out and note the pattern of substance abuse, mental and physical health, medical history, and relationship with others.
Depending on that, the diagnostic summary is prepared which includes the summaries of the problems, and recommendation of treatment.
Problem List
The problem list is the list of issues that should be targeted throughout the treatment process. The list also contains the symptoms of the issues that confirm that the issue exists. A problem list can contain multiple problems and each problem can have multiple symptoms.
Problem List helps to set the goals as the treatment process focuses on reducing or removing the problems.
List of Goals
The list of goals contains multiple goals of the treatment.
Goals are set depending on the problems in the problem list. A goal is what you want to change and to what extent it should be changed. These should be reasonable. This means the goal should be something that can be achieved within the treatment period.
Also, the goals should contain the ways to achieve them.
List of Objectives
The list of objectives focuses on the course of action that the patient should follow to achieve the goals. Objectives are set depending on the goals. An objective should have five characteristics- specific, measurable, attainable, relevant, and time-specific.
Interventions
Intervention is the way the therapist or medical professional helps the patients to complete the objectives. Intervention can be a challenge to complete or a direction to follow. Depending on the person, intervention varies.
Evaluating Progress
This part contains the result of the evaluation process done by regularly tracking the progress. Typically, this part contains the response of the patient towards the treatment, change in the condition, and suggested adjustments.
Depending on this part, necessary changes in the treatment process, goals, objectives, interventions, and medications are done. So, this is another crucial part of the treatment process.
Long-term Care and To-dos
This part contains suggestions for the patient after he/she complete the treatment process. It includes suggestions from the therapist about what to do and what not to do after going back home. Typically it suggests leading a healthy lifestyle. Also, it can include a routine suggested that should be followed after going back home.
Overall, these are the common components of a basic substance abuse treatment plan. Also, you'll find a lot of other components depending on from whom you're taking the treatment.
Does Substance Abuse Treatment Work
There is no way you can completely measure the effectiveness of substance abuse treatment because this is like a chronic disease. So, you can prevent it for some time but you can't do something that can fully cure it. Treatments help to get the primary sobriety, but the continuity of the sobriety depends on the person.
That's why you can't mark treatment as ineffective if a relapse happens. Relapse is common and it can happen anytime. Here, the situation is very confusing.
As there is very little chance of gaining complete sobriety for the rest of life, if we consider this as the main criteria, we'll have to say that substance abuse treatment doesn't work.
But this is also not true because people become sober after getting treatment under effective facilities. The issue is relapse which is not in control of the treatment facilities or process. For relapse, the environment and problems around the individual are responsible.
That's why there are some criteria depending on which you can call a treatment effective or ineffective. These are given below.
Noticeable reduction or complete removal of substance use (Reduction in terms of frequency and amount)
Visible improvement in physical health and physical ability.
Fewer visits to the hospital.
Noticeable improvement in mental health and positive mentality.
A cheerful mode and improvement in behavior.
Improved relationship with people around, for example- family, neighbors, friends, colleagues, etc.
Less connection with crimes or criminal activities.
Fewer injuries and accidents than before.
A regular visit to the workplace or the place of study.
Depending on these factors, you can somehow predict if the treatment has worked or not.
If a relapse happens, you won't have to worry much. Next substance abuse treatment will be more effective because the positive impacts of previous treatment are still there.
If you want the substance abuse treatment to work properly, besides finding a good treatment center, it is also mandatory to focus on the after-treatment period. Structured daily routine, good relationship with surrounding people, healthy habits and lifestyle, and less triggering elements are necessary to continue sobriety for a long time.
So, if you want the treatment to work, you should make sure that the surroundings after the treatment are positive towards the journey to a sober life. Otherwise, the treatment won't work and in the long run, the substance use disorder will be back again.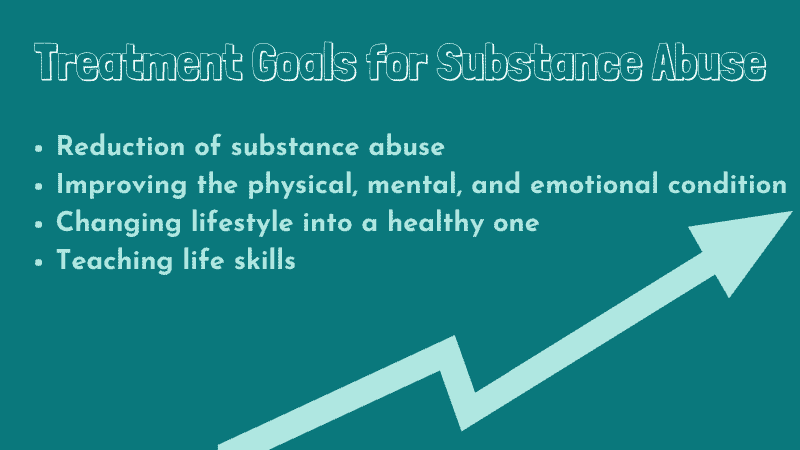 Treatment Goals for Substance Abuse
Substance abuse treatment programs are designed with some goals to achieve. The goals are set focusing on the problems assessed by the therapist. However, there are some common goals that most substance abuse treatment focuses on. Those are given below-
Reduction of substance abuse
This is always the primary goal of a substance abuse treatment process. Reducing dependency on substances helps people to live healthier and happier life. In long-term treatments, the goal is completely removing dependency on the substance.
Improving the physical, mental, and emotional condition
Addiction harms a person physically, mentally, and emotionally. That's why treatment processes focus on improving the overall condition of the person. Doing this makes sure that the effectiveness of the treatment would stay longer. Also, overall improvement helps the person to resist future temptations towards substances.
Changing lifestyle into a healthy one
A healthy lifestyle is free from all sorts of drugs and addictive substances. So, one of the main goals substance abuse treatment process is to help the person to achieve a healthy lifestyle. That's why the process is designed with multiple components of a healthy lifestyle like- yoga, meditation, physical exercise, games, refreshing activities, and so on. When a person leads a healthy lifestyle, addictive substances can't do any harm.
Teaching life skills
Life skills are important for people to lead a sober and better life. These help them to face the challenges and overcome those. People who are skilled in these skills are tending to be less prone to addiction. So, the treatment process also focuses on teaching life skills so that the patients can handle the issues around them and keep them safe from relapse.
Besides these common goals, substance abuse treatments come with some goals that are designed to focus on the reason behind addiction. For example- when a family problem is a reason behind addiction, the goal of the treatment process is to improve the relationship with the family. While treating addiction caused by mental problems, the goal is fully to remove the mental issue.
Listing proper goals is mandatory because depending on the goals, the course of action is set.
How much does Substance Abuse Treatment Cost?
The cost of substance abuse treatment depends on a lot of things. So, it is not possible to answer this question directly. Instead of that, let us talk about the main factors that affect the cost of drug addiction treatment.
Type of the Program
You've already learned about the common types of substance abuse treatment programs. This has the main influence on the cost of the program. Typically outpatient programs are less costly than inpatient programs. The reason is- the inpatient program includes the cost of residential facilities and 24/7 medical support if needed. Outpatient programs don't require these.
A partial hospitalization program costs something in between these two. Taking help from support groups doesn't require much because these groups are donation-based. You can take help for free or donate a small amount. Detoxification and sober living homes cost near to the inpatient treatment programs.
Length of the Program
The duration of the program has an impact on the cost of treatment and it is obvious. The longer you'll receive the treatment, the more the cost will be. There is a significant difference in costs if you consider a 30-day program and a 90-day program.
Still, when it is about the length of the program, we'll suggest longer programs. The reason is discussed a bit earlier.
Amenities Offered
The amenities of the rehab centers have an impact on the cost of the program. Rehab centers that come with a lot of scope for recreating and comfort surely charge much more than the rehabs that come with only basic living amenities.
This is the impact of amenities on inpatient treatments. The same goes with other treatments types too. The more amenities you enjoy, the more you have to pay.
Location of the Facility
The location of the facility also has an impact on the cost. Some places come with a huge living cost. Facilities you'll find in those places also charge high. Also, the surrounding nature and landscape have an impact on the treatment cost.
So, these are the main reasons that affect the cost of rehab programs. Typically you'll find treatments that'll cost you around $200 to $1500 per day. This is the typical range. You may find rehabs charging out of this range.
But you won't have to be much worried about costs. No matter what is your income, you'll find rehabs that provide treatments within your affordable range. You need to search a bit.
Also, you'll find many programs run by the US government that financially help people to receive substance abuse treatment. Also, local government programs are working with similar intentions too. Besides, you'll find organizations that provide scholarships for substance abuse treatment. So, don't worry much about the cost of treatment.
Some Substance Abuse Treatment Places
Substance abuse treatment is one of the things that have the most demand in the USA. So, you'll find many facilities around you. But before going to Google and searching 'substance abuse treatment near me, check my suggestions.
Here we've talked about a few substance abuse treatment facilities around the US. Maybe you'll find one around you. In that case, you won't have to spend time searching for rehabs. So, don't leave. Continue reading.
Substance Abuse Treatment Centers in Florida
Being named after one of the most beautiful trees in South Florida, Banyan Treatment Center is one of the most effective and versatile substance abuse treatment centers in Florida. While treating, they customize the process for individual needs. This helps them to ensure the best and most perfect treatment for individuals.
Banyan ensures addiction treatment for alcohol addiction, drug addiction, meth addiction, cocaine addiction, heroin addiction, and prescribed pill addiction. They follow and use multiple types of therapies to treat these addictions, depending on individual needs. Also, they have a qualified detox team that can run a harm-free detoxification process for a lot of addictions.
The team of Banyan consists of a number of motivated and committed individuals who know what they do. All of them are specialists and professionals. Through proper care and a friendly approach, they run the treatment process. They know that everyone's struggle is different. So, they help the clients by keeping the process as helpful as possible.
The facility of Banyan Treatment Center is designed to be treatment-friendly. But instead of a vibe of a hospital, you'll find a friendly and homely environment. Being situated at a stunning location and packed with multiple recreational activities and exercises, this place is where you can go if you're from Florida.
To know more about Banyan, you can go through their website- https://www.banyanstuart.com/. Or you can directly reach them by phone. For that, call 888-422-2139. No matter when you contact, Banyan is ready to help you or your loved one with the addiction treatment.
Substance Abuse Treatment Centers in Greensboro NC
Looking for a decent substance abuse treatment center in Greensboro will take you to this one, Amethyst Consulting, and Treatment Solutions. This place offers evidence-based and effective treatment processes to treat substance abuse. Also, they treat a lot of mental and behavioral issues too.
They have facilities to treat substance abuse in many ways. But typically they focus on treating this using contingency management. They treat addictions for drugs, alcohol, opioid, marijuana, cocaine, and many other substances. Besides focusing on the symptoms, they also focus on the factors that help to reduce the addiction. Thus, they ensure more efficient and long-term sobriety that everyone wants.
The mission of ACTS is to ensure the latest and most effective treatment as well as improve the relationship with the family so that the chance of relapse reduces. That's why they add family counseling in the treatment process. The team of experts and professionals is motivated by this mission. They do their best to ensure the highest value to the clients.
ACTS comes with a set of values that they maintain and reflect through their actions. Besides treating, they help the clients to become a better version of themselves. Throughout the journey towards sobriety, the clients receive a friendly and compassionate approach from the people from ACTS. This ensures faster and better recovery.
Check more about them on their website- http://www.amethystcares.com/. Call them at 336-674-9781 to talk directly. Also, you can send them an e-mail at solutions@amethystcares.com. They'll reach back to you.
Substance Abuse Treatment Centers in Palm Beach
Seaside Palm Beach is a luxury drug and alcohol recovery center you'll find in Palm Beach that can help you or your loved one with substance abuse issues. This place is specialized in the executive treatment program and holistic approach. But they also provide other treatment options with proper care and efficiency.
Besides alcohol and drug, they treat addictions to benzo, meth, cocaine, heroin, and prescribed drugs. They have multiple programs and therapies for the well-being of the clients. Besides effective treatment, they deliver a comfortable experience of recovery. As a result, the process becomes more efficient.
It comes with a dedicated team in treating substance abuse disorder through evidence-based and latest approaches. Everyone in the team are committed and motivated to bring out the most effective result from what they do. So, you can depend on them. They have experience, expertise, and training on what they're doing.
As a luxury rehab center, it comes with a lot of additional amenities and services. Besides 24/7 strong security, this place provides a Wi-Fi connection, flat-screen television, daily laundry and cleaning service, meals prepared by trained chefs, swimming pool, daily maid service, and so on. The patient-to-staff ratio is extremely low here. So, you'll get attention whenever you want. The amenities here are to make your life easy and allow you more time to train a healthy lifestyle.
If you're interested, you can check their website- https://www.seasidepalmbeach.com/. There you can leave your e-mail address so that they can contact you. If you want to contact me quickly, call at- 561-220-3908.
Substance Abuse Treatment Centers in Atlanta
The Summit Wellness Group is a place in Atlanta where you can get evidence-based and holistic treatment of substance abuse. People here are focused on ensuring top-notch treatment through a compassionate and warm approach. Clients here are treated with care and dignity. Their approach towards the patients has made this place one of the best substance abuse treatment centers in Atlanta.
This place owns facility of a lot of programs and follows several approaches to treat substance abuse. Common substance addictions they treat are alcohol, cocaine, heroin, kratom, crystal meth, marijuana, opioid pain pills, benzodiazepine, amphetamine, etc. They have established an effective and efficient treatment procedure for treating addictions. But it is changed by focusing on individual needs.
Summit has a dedicated and motivated team of people who are focused to bring the expected result. They work closely with the clients to understand the issues and remove those through effective approaches. Everyone here knows what they're doing and how to do that. Their friendly and warm approach helps the clients to have a boost in recovery.
Their Atlanta facility comes with an environment that helps the clients to feel homely. It is designed to be a place to talk. As a result, the client-therapist connection becomes better and more effective. They have space for a lot of therapies including yoga, music therapy, adventure therapy, art therapy, guided meditation, group therapy, family therapy, and so on. This place is a perfect one to get sobriety.
If you're interested to know more about them, please check their website- https://thesummitwellnessgroup.com/. To talk directly, call them at 770-830-3542. They're 24/7 ready to pick up your call. Also, for e-mailing, use the address- contactus@thesummitwellnessgroup.com
Final Verdict
We hope that this article has helped you to know something about substance abuse treatment. Having a basic about this is important because people around you might need help regarding this.
Here in this article, we've tried to talk about the most common things related to substance abuse treatment. Substance abuse is one of the most concerning issues in the US. Every year a lot of people are addicted to drugs, alcohol, or any other substance. Substance abuse is something that costs a lot of things. So, this should be removed.
Research are going on in this field to make the treatment procedures more effective. The therapists and researchers are looking for ways for long-term sobriety. So, we hope that substance abuse treatment will soon become more effective and relapses will be prevented.